Closing workshop of the "ActRural" project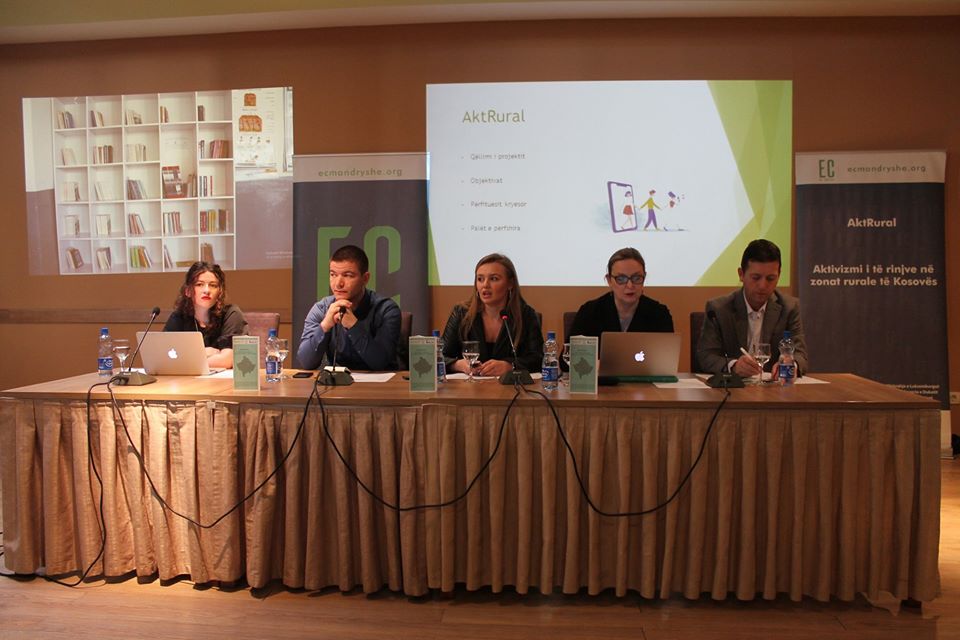 The closing workshop of the project "AktRural-Activating Kosovo Youth in Rural areas" was held in order to present the work of the organization within this project and the initiatives that have been implemented together with the participating youngsters and the cooperative parties from all regions of Kosovo.

On the panel of this workshop were participants; Vjollca Krasniqi - Professor at the Faculty of Philosophy, University of Prishtina, Ideal Zhaveli - KVRL Gjakova, Flaka Xërxa Beqiri - Author of the Initiatives' Book, Amir Pllana - Principal of Hivzi Sylejmani School, Fushë Kosovë and Nora Simitçiu, EC Ma Ndryshe. Also present were media representatives, village leaders, school principals, co-operative organizations, activist school students and trainers who were involved in the idea implementation process.

In the first part of this event, Nora Simitciu presented to the participants the purpose and the achievements of the project, expressing in figures that the project "AktRural" has been extended to 26 municipalities out of which 18 rural areas including 60 schools - with 1885 pupils - 961 females and 924 males, resulting in 88 initiatives being by nature direct interventions, formal requests, petitions, training, awareness campaigns and cultural activities.

Following the presentation of the KCSF project Linda Hoxha introduced the Luxembourg scheme that supported the realization of this project, to continue with Flaka Xerxa Beqiri who provided information on the Book in which all student initiatives are being presented. The importance of expressing students' ideas and their activism in identifying and solving problems in the community where they live was mentioned.

Vjollca Krasniqi from the University of Prishtina emphasized that the project can be considered as a reflection of the solidarity of Kosovar society. It was also emphasized that the role of civil society organizations has been very important in promoting activism and this has had a positive impact on the civil emancipation of the community. On the other hand, Amir Pllana, principal of Hivzi Sylejmani Elementary School, said that the level of volunteering has increased significantly among students compared to previous periods and calls for such activities not to be missed.

Ideal Zhaveli from the KVRL - Gjakova expressed his concern about the low level of volunteering promoted by state institutions and stated that such lack of support should not affect young people's willingness to be active in their community.

Following the presentations, some of the participating students from the Activism School shared their experience with EC and continued to work in groups to pursue volunteerism initiatives through cross-regional facilitator-led initiatives.

The event was funded by the project "Luxembourg Support for Civil Society in Kosovo, funded by the Government of the Grand Duchy of Luxembourg and managed by the Kosovo Foundation for Civil Society (KCSF).